AVA stands for American Viticultural Area and is a defined wine grape-growing region. There are 257 AVAs in 34 states and 18 AVAs in Oregon. Oregon's northerly latitude means grapes get extra sunlight to grow and crisp, cool nights to help grapes retain their acidity. Oregon's wine pioneers thought that combination meant Oregon grapes would naturally achieve mature, balanced flavors and full varietal character according to Oregon Wine and they were right. Today the suitability of Oregon for great wine is unquestioned.

Each AVA is unique in its geographic location, climate soil and topography. When an AVA is designated on the wine bottle's label, 85 percent of the grapes used to make the wine must be sourced from that AVA. If a wine label states Oregon, an Oregon county or an AVA wholly within Oregon, 100% of the grapes must be from Oregon and 95% from that appellation of origin.
Willamette Valley Vineyards has three Tasting Rooms and six estate vineyards in the Willamette Valley AVA.
Willamette Valley AVA
The Willamette Valley AVA is the largest AVA in Oregon and was named the Wine Region of the Year in 2016 by Wine Enthusiast Magazine. In July 2021, the Willamette Valley wine region was formally recognized by the European Union through Protected Geographical Indication Status. This milestone recognizes the quality of Willamette Valley wine and protects the Willamette Valley name from misuse and fraudulent labeling around the world. Only two regions in the US have this distinction – Napa Valley and now the Willamette Valley.
This AVA is more than 100 miles long and spans 60 miles at its widest point from the Coast Range to the West and the Cascade mountains to the East, the Columbia River to the North and just South of Eugene. The major cities within the AVA are Portland, Salem (the state Capitol), Eugene, Corvallis, McMinnville and Newberg.
Willamette Valley AVA is home to Willamette Valley Vineyards Estate Tasting Room in the Salem Hills, our McMinnville Tasting Room in quaint downtown McMinnville and our Tualatin Estate Tasting Room in Forest Grove and the region is also home to most of Oregon's wineries – 676 wineries call this AVA home to be exact!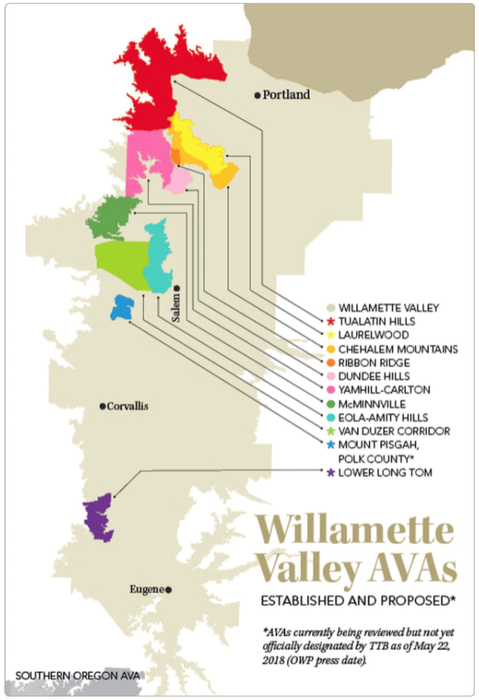 Climate: Known for having a mild climate with cool and wet winters, and dry and warm summers.
Soil: The Willamette Valley is an old volcanic and sedimentary seabed that has been overlaid with gravel, silt, rock and boulders brought by the Missoula Floods from Montana and Washington between 10,000 and 15,000 years ago.
Our Estate Vineyard is planted on an old west-to-southwest facing volcanic flow. The soil type is typically a clay loam, which is permeable to roots, retentive of moisture and runs five to seven feet deep. Because this soil is so old, estimated to be 10 to 14 million years old, rainwater has percolated through this now acidic soil, breaking down the basalt, allowing the roots to tap down. Wines from this vineyard exude a sense of place and display complexity, elegance and balance.
Willamette Valley Sub-Appellations
The Willamette Valley has nine smaller AVAs that have distinctive climate, soil, elevation or other features that make them perfectly suited for wine production: Eola-Amity Hills, Laurelwood, McMinnville, Ribbon Ridge, Tualatin Hills, Van Duzer Corridor and Yamhill-Carlton District.
Our Elton Vineyard is in the Eola-Amity Hills sub-AVA, Tualatin Estate Vineyard and Loeza Vineyard are both in the Tualatin Hills sub-AVA, and Bernau Estate Vineyard is in the Dundee Hills sub-AVA.
Salem - Home of Our Estate Tasting Room
In addition to being the center of the Willamette Valley and Oregon Wine Country, Salem is a big city with a small-town feel. From the nearby walking trail system starting at downtown's Riverfront Park or hiking at Silver Falls State Park aka the "crown jewel" of Oregon State Parks there are lots of family-friendly activities to partake in.


Where to Eat and Drink:
Basil & Board - Award-winning Italian pizzeria and wine cafe
Wild Pear - Airy lunch destination
Willamette Valley Vineyards - Thoughtfully prepared pairings menu by award-winning Winery Chef DJ MacIntyre featuring fresh local ingredients to enjoy with our classic Oregon wines
Where to Stay:
Willamette Valley Vineyards Winery Suite - Wake up to sweeping vineyard views from your own private suite on-site
Grand Hotel - A polished downtown hotel two blocks from Riverfront City Park and five blocks from the Oregon State Capitol
McMinnville - The Heart of Oregon Wine Country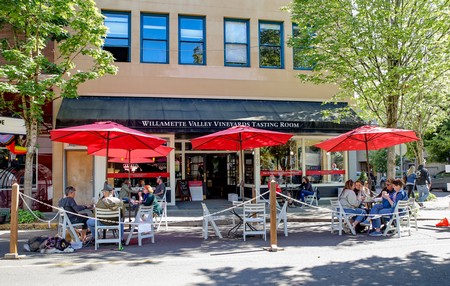 "Oregon's Favorite Main Street" is also known as Downtown McMinnville's tree-lined Third Street with quaint restaurants, cool coffee shops, winery tasting rooms and boutiques. You'll also want to visit the world-class Evergreen Aviation & Space Museum where you can see the original Spruce Goose.
Forest Grove - Home of Our Tualatin Estate Tasting Room
Forest Grove is located west of Portland surrounded by many farms that are open to culinary enthusiasts wanting access to the freshest and finest ingredients including America's first successful craft sake' producer, Saké One, where you can enjoy premium Japanese and American saké in their Tasting Room.

Where to Eat & Drink:
Biscuitology - Biscuit centric southern country style cafe
Ridgewalker Brewing Company - An array of classic comfort bar fare & a focus on beer on tap in a rustic setting with modern decor.
Urban Decanter - Wine bar and wood-fired oven bistro
Zesti Food Carts - 30 spot food cart pod in a garden setting
Where to Stay:
McMenamins Grand Lodge - A former Masonic & Eastern Star property peppered with unique rooms, restaurants, a spa, free live music and events
Top Chef Fan? Check out our itinerary inspired by Season 18 of Top Chef Portland for more fun places to go around the state!
References:
Oregonwine.org
ABCs of Oregon's AVAs, Oregon Wine Press
https://en.wikipedia.org/wiki/Willamette_Valley_AVA
https://www.willamettewines.com/about-the-valley/oregon-pinot-noir/wine-origins/