Free Writing Prospectus (to Prospectus dated December 23, 2015, as Supplemented by the Prospectus Supplement dated May 3, 2017)
Filed Pursuant to Rule 424(b)(2) Registration Statement No. 333-208715
---
Ownership Invitation
Willamette Wineworks - Folsom, California
Please consider becoming a Founder in America's leading community-funded winery by purchasing Preferred Stock. We are embarking on a new project to build Willamette Wineworks - coming soon to Folsom, California.
You are eligible to purchase shares at $4.65 per share, offering a 4.7% dividend, if your subscription agreement form is received or postmarked by March 31, 2018. The minimum purchase is 350 shares ($1,627.50) and the maximum purchase is 2,300 shares ($10,695.00).
Willamette Wineworks will feature food and wine pairings and a unique hands-on blending experience from barrel for you to learn and enjoy. We will be joining Scott's Seafood in the new Roundhouse building in the revitalized Historic Folsom Station. The Roundhouse is modeled after the original used to house train engines in the 1800s and will join the restored railroad turntable, amphitheater, free public parking garage and additional three buildings to make up the Historic Folsom Station, the city's vibrant living room for area residents, guests and tourists.
Jim Bernau's family connection to the area, and the vision for the historic district has brought this idea to life and allows us to take our Oregon wine story on the road to share with local wine enthusiasts. We have plans for a Grand Opening Celebration late this year.
View Prospectus & Purchase Stock
* Please find more information below about our other winery projects.
---
Bernau Estate
Join us in building Bernau Estate near Dundee, the heart of Oregon wine country. Bernau Estate and Vineyard will make méthode champenoise sparkling wines from biodynamically-grown grapes. We will use sustainable farming practices to create a balanced ecosystem that generates healthy soil and elegant wines. The winery will offer Oregon-inspired hospitality, with gardens and a wine cave for you to explore and enjoy. As an Owner, you earn Founder status, invitations to exclusive winery celebrations, savings on wine, and will be a part of telling the Oregon wine story through unique vineyard sites.
Bernau Estate Groundbreaking Celebration
Over 600 Owners joined us for the Groundbreaking of Bernau Estate Winery on Sunday, September 17th. Owners raised their shovels for a photo commemorating the historic moment and together we harvested the first vintage of Pinot Noir.
---
Elton
Together we will build a winery adjacent to Elton Vineyard. Dick and Betty O'Brien planted the Elton Vineyard in 1983 and spent their lives growing Pinot Noir and Chardonnay in the Eola Hills south of Dundee. It was named one of Oregon's top ten vineyards by Wine Press Northwest and in Wine & Spirits as one of the five key vineyards in the Eola-Amity Hills AVA. They have enjoyed providing their winegrapes to some of Oregon's most talented winemakers over the years, including our Consulting Winemaker on the project, Isabelle Meunier. Between Isabelle's first Oregon vintage in 2007 through 2015, 22 wines from Oregon were awarded a score of 95 and above, by Wine Spectator Magazine, citing them as "Classic." Isabelle produced 11 of those wines, including the highest rated Oregon Pinot Noir and Chardonnay ever. The Elton winery will focus on small lots of premium Pinot Noir and Chardonnay starting with the 2015 vintage, which is currently aging in the barrel. The boutique winery will feature a stunning by-appointment-only tasting room with beautiful vineyard views.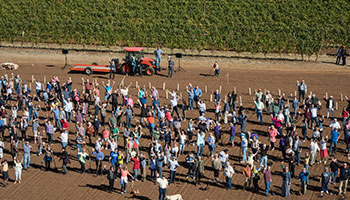 Over 500 new Owners joined together in September 2015 for the groundbreaking of Elton Winery and historic planting of Pinot Noir vines.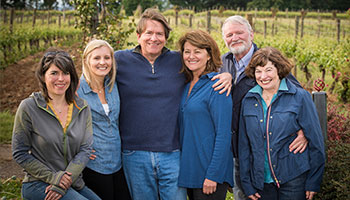 Pictured from left to right: Consulting Winemaker, Isabelle Meunier; Winery Director, Christine Collier; Willamette Valley Vineyards Founder, Jim Bernau; Project & Staff Development Manager, Jan Bernau; and Elton Vineyard Founders, Dick & Betty O'Brien.
---
Pambrun
We have planted our vineyard of 15 acres alongside those Cabernet Sauvignon visionaries at SeVein. Located on the Oregon side of the Walla Walla Valley, SeVein is a collection of some of the highest quality vineyard land in the world anchored by the renowned Seven Hills Vineyard. Named in honor of Pierre Pambrun, Walla Walla's First Citizen who led the Hudson's Bay trading post there and Founder, Jim Bernau's fifth grandfather. The wines will be made by Consulting Winemaker, Jon Meuret of Maison Bleue Winery, who has produced some of the highest scoring Walla Walla wines. Pambrun will focus on ultra-premium Cabernet Sauvignon wines, starting with the 2015 vintage which is currently aging in the barrel. Together we will build a by-appointment-only tasting room, designed by Architect Joe Chauncey of Boxwood, to feature vineyard views overlooking the Walla Walla Valley and Blue Mountains.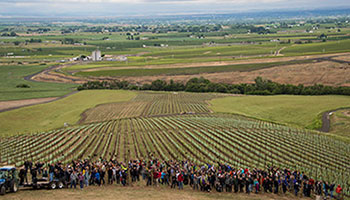 Over 300 Owners brought their shovels to the Walla Walla Valley in May 2016 to plant Cabernet Sauvignon vines and celebrate the ground breaking for our new vineyard and winery called Pambrun.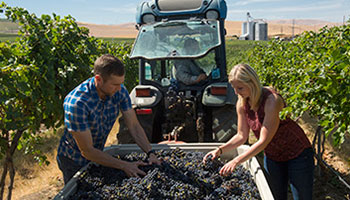 Consulting Winemaker Jon Meuret and Winery Director Christine Collier harvest Cabernet Sauvignon grapes from the Seven Hills Vineyard for first vintage of Pambrun. The Pambrun Vineyard was planted in the Spring of 2016.
Willamette Valley Vineyards, Inc., has filed a registration statement (including a prospectus) with the SEC for the offering to which this communication relates. Before you invest, you should read the prospectus in that registration statement and other documents we have filed with the SEC for more complete information about our company and this offering. You may get these documents for free by visiting EDGAR on the SEC Web site at www.sec.gov. Alternatively, you may obtain a copy of these documents at http://www.wvv.com/prospectus, or we will arrange to send you the prospectus (including the documents incorporated therein by reference) if you so request by writing us at stock.offering@wvv.com or by calling us toll-free 1-800-344-9463.