Stewardship of the Land

Since the winery's founding in 1983, stewardship of the land has been a key principle in our winemaking and farming practices. Founder Jim Bernau believes Pinot Noir made with consideration for the environment, employees and community simply tastes better.

---
LIVE (Low Input Viticulture & Enology) & Salmon-Safe
Environmental Certifications
Our vineyards are certified sustainable through LIVE (Low Input Viticulture and Enology) and Salmon-Safe. This includes 67 acres of vinifera at our Estate Vineyard in the Salem Hills, 171 acres at Tualatin Estate Vineyard in Forest Grove, 67 acres at Elton Vineyard in the Eola-Amity Hills and 16 acres at our Bernau Estate Vineyard in Dundee. LIVE is certified through the International Organization for Biological Control, the international standard for sustainable agriculture. The whole farm system certification includes preventative measures for water run off into salmon streams, natural pesticide management, riparian areas and reduced sprays.
In 2011, Founder Jim Bernau was recognized by Salmon-Safe with the very first "Hero of Salmon" award for the implementation of his high impact Salmon-Safe "SIP-SAVE" campaign in print, retail, web and vehicle wraps.
---

Biodiesel
The Willamette Way
We love our biodiesel! In 2005, Founder Jim Bernau launched an employee biodiesel program offering 50 gallons of biodiesel a month to each employee, at no cost. When our employees, delivery vehicles and tractors use biodiesel, we can help lower CO2 exhaust emissions and reduce the impacts of climate change. To learn more about biodiesel and our provider, please visit SeQuential.
---

FSC® Certified Cork
Certified Through the Rainforest Alliance to FSC standards
Our winery was the first in the world to use cork certified through the Rainforest Alliance to Forest Stewardship Council® (FSC®) standards. Cork is a natural, sustainable product where the cork tree is never cut down but continues to sequester carbon throughout its long life. Learn more by visiting the Rainforest Alliance.
In 2010, we were honored with the Rainforest Alliance's prestigious Sustainable Standard-Setter Award. Tensie Whelan, President of the Rainforest Alliance, commended us for our long-time leadership in agriculture and forestry: "Willamette Valley Vineyards' efforts to provide sustainable livelihoods, conserve biodiversity and minimize environmental impacts have solidified Willamette Valley Vineyards as a leader of sustainable agriculture and forestry. Willamette Valley Vineyards has long been at the forefront of environmental conservation through the pursuit of FSC-certified cork, waste management near riparian zones, and investment in alternative fuels."
Additionally, all of our bottle packaging materials are certified BPA-free.
---

Cork Recycling
Cork is one of the world's most sustainable agricultural products, we founded CorkReharvest, the first nationwide recycling campaign that continues today as Cork Forest Conservation Alliance. We recycle the corks into high value products, so please consider recycling yours in our Tasting Rooms, at Whole Foods Markets or other partner retailers.
In addition to recycling natural corks, we also use recycled paper throughout the facility, recycled cardboard shippers, and we recycle all plastic, aluminum, paper and cardboard products.
---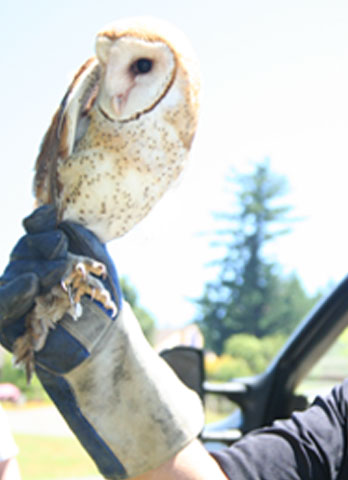 Raptors in the Vineyard
Barn Owls and Kestrels Help Protect our Vineyards
In 2011, we partnered with the Cascades Raptor Center in Eugene, Oregon to place rehabilitated barn owls and kestrels into our vineyard for natural protection. We hung the first of six barn owl and kestrel nesting boxes at our Estate Vineyards. These birds help create a balanced eco-system by controlling pest populations. We continue to introduce birds each year.
Joe Perez, one of our long-standing AWS/OWE members, built the "bird condos" and placed them in three of our Estate Vineyards. We'd like to thank Louise Shimmel, Executive Director of the non-profit Cascades Raptor Center, for all of her work to make this possible.
---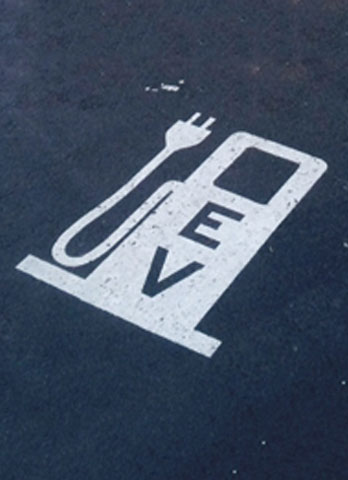 Energy Efficiency
Electric Vehicle Charging
Guests of the winery are welcome to use either of the dual-head electric car charging stations located in the hospitality parking lot. Look for the "EV" logo painted on the designated parking spaces to use this free service.
Learn more about electric vehicle tourism in Oregon Wine Country!
---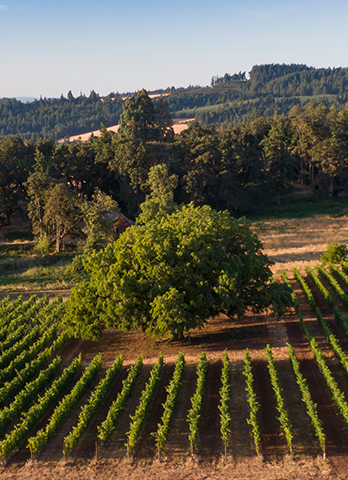 Willamette Valley Oak Accord
Protecting and Restoring our Beautiful Oak Trees
We were one of the founding signatories of Willamette Valley Oak Accord, a grassroots effort to protect and restore remaining oak habitat in the Willamette Valley. This is an important conservation effort that will preserve natural resources within our region and restore more than 1,500 acres of the Willamette Valley's fragile ecosystem.
---

Wind & Solar Power
Powered by Wind
By partnering with PGE to provide wind-powered electricity, we have the same environmental impact as not driving 739,488 miles each year. Clean Wind is plentiful, renewable, widely distributed, produces no greenhouse gas emissions during operation, doesn't consume water and uses little land.
Solar Energy
Our Estate has twelve solar water heating collectors and 116 kilowatts of photovoltaic generation capacity that will reduce emissions from utility-supplied energy to prevent 1,780 tons of CO2 from entering the atmosphere. Additionally, we have invested in four solar energy projects with Advanced Energy Systems. These include two solar electric installations (458 panels in total) providing 139,000 kilowatt hours of electricity annually. On an equivalent basis, these solar power facilities offset the emissions from the consumption of 11,917 gallons of gasoline, amounting to a reduction of 117 tons of CO2 emissions each year.
---

Biodynamic Farming at Bernau Estate
Biodynamic Sustainable Farming Practices
At Bernau Estate, we are committed to becoming biodynamic certified. Biodynamics is a holistic, ecological and ethical way of farming used in all kinds of agriculture. It involves managing a farm utilizing the principles of a living organism. Applying biodynamics in the day-to-day operation of a farm, or in our case a vineyard, involves creating a farming system that is minimally dependent on outside materials to meet the needs of the land.

As of June 2019, we have completed a full cycle of biodynamic farming practices. Following the 2018 harvest, our team filled female cow horns with local manure and buried them in the soil for the winter. The manure in the horns transforms into a nutrient-rich preparation (called Biodynamic Preparation 500) that is attuned to the land. We unearthed the horns this spring to create a preparation that is enlivened with water and sprayed over the vineyard. Each horn produces enough to cover 1 acre of land with multiple sprays throughout the growing season. Biodynamic Preparation 500 has shown to accelerate and improve the soil structure, microbiological activity while enhancing a sense of place.
---

Supporting Native Bee Populations
We Love our Mason Bees!
We installed mason bee boxes at our Estate and Elton Vineyards to support healthy populations of these native pollinators. Mason bees are very productive spring pollinators for fruit and nut trees, as well as berry plants and spring flowers. With 40% of the insect population down and biodiversity declining, providing safe nesting places for these bees will help them thrive and increase their populations.
Learn more about mason bees on our blog.
---

Certified Vegan Wines
Animal-free Wines
Several of our wines are now Certified Vegan, including our Estate Pinot Noir, Whole Cluster Pinot Noir, Whole Cluster Rosé of Pinot Noir and Estate Rosé of Pinot Noir.
Being Certified Vegan ensures that no animal, dairy or honey bee-derived ingredients are used to make our wines. There are only a handful of wineries in the United States that have gone through the rigorous steps to be Certified Vegan.
What does it mean to be "Certified Vegan?" Read more on our blog.
---

Recycling Water at the Estate
Recycling Water and Reducing Use
In 2018, our crew installed a new state-of-the-art greywater system. Going above and beyond DEQ code, this system will allow us to use significantly less water and will filter out organic solids for compost use. The recycled treated water can be used to irrigate landscape beds, potted plants and other non-food uses. Most importantly, this system ensures water used in our winemaking efforts is returned to the soil safely and efficiently.

Read how this new system is advancing the industry in the Oregon Wine Press.

First Oregon Winery to Commit to the Porto Protocol
Willamette Valley Vineyards is the first Oregon winery to commit to the Porto Protocol, a sustainability initiative that aims to motivate companies and individuals to do more to help the environment by being a catalyst for new ideas. Our state-of-the-art greywater system is currently being featured as a case study on their website.