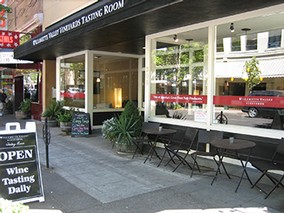 300 NE 3rd St.
McMinnville, OR 97128 [map it]
P | 503-883-9013
E | mcminnville@wvv.com
Hours:
Wine pick-up and curbside service only
Monday - Saturday
11 am - 6 pm
Sunday 12 pm - 6 pm

Visit our Facebook page
for upcoming events!
"I almost missed visiting this spot during my time in McMinnville and so glad I didn't! It was one of my favorite wine experiences during my trip. The interior of the tasting room is spacious with many different seating areas, including standard tables, the bar and couch areas. The atmosphere is cozy and the staff is friendly and unassuming."
— TripAdvisor Review
The Willamette Valley Vineyards Tasting Room in McMinnville provides an opportunity to experience our award-winning wines right in the heart of downtown McMinnville.
We are open for wine pickup and curbside service only, Monday - Saturday, 11 am - 6 pm and Sunday 12 pm - 6 pm.
We have new safety procedures in place to accommodate Oregon Health Authority guidelines. Going beyond those guidelines, we have also installed a new state-of-the-art UV light filtration in our HVAC systems to reduce harmful microorganisms like germs, bacteria and viruses.

Learn More About our Safety Measures

Our knowledgeable and friendly staff will guide you through flights of our certified sustainable wines. We also offer a relaxing atmosphere with comfy seating to enjoy a glass of your favorite wine while taking in the sights of historic 3rd Street.

Willamette Valley Vineyards Tasting Room in McMinnville
300 NE 3rd St
McMinnville, OR 97128 Google Map
P | 503-883-9013
E | mcminnville@wvv.com