Willamette Valley Vineyards is pleased to support a variety of charitable organizations, with particular emphasis on charities in our local community. However, given the frequency of donation requests that we receive, we ask that you adhere to the donation policy outlined below.
You may submit a donation request for a tour and tasting gift certificate good for eight wine enthusiasts (estimated value: $320) or bottles of wine for an auction by filling out the form at the bottom of this page. Please note that we cannot approve all requests for donated wine, even if all the guidelines are met. We invite non-profits to take advantage of our case goods program, which offers a 50% discount on select cases of wines.
Important Details to Note
• Requests for cash will not be considered.
• Willamette Valley Vineyards will not deliver donated items. Recipients must pick up the donation at the winery between 11 am and 5 pm, Monday - Thursday, or pay the shipping costs.
• We require a minimum of six weeks notice for a request to be considered.
• Only requests made by email or mail will be considered.
• Due to the volume of requests, phone solicitations will not be accepted.
If your request meets our guidelines and is approved, the certificate will be mailed to the address provided in your request. Our Donation Committee meets the last Tuesday of each month. We will send you a letter of notification as to the status of your donation request shortly thereafter.
We wish you all the best with your charitable activities, and we appreciate your interest in Willamette Valley Vineyards!


If you have questions, please contact us at donations@wvv.com.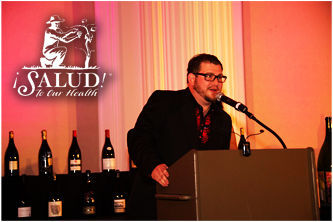 Pictured above: Former winemaker Don Crank presenting the Founders' Gift in 2013, on behalf of Willamette Valley Vineyards, in the amount of $50,000 to ¡Salud! at their annual Oregon Pinot Noir Auction Gala. During the presentation, the Managing Nurse, Leda Garside and I made an appeal to the audience that raised an additional $142,000! This is the largest special appeal ever raised in ¡Salud!'s history. Overall the evening raised $710,000.

The money will be used to fund ¡Salud!'s Wellness Clinic Campaign that provides mobile health services to our Oregon vineyard workers and their families. The relationship between Oregon winemakers and healthcare professionals, united in their mission to benefit this essential workforce, is unique to Oregon. No other state has such an effective and far-reaching program.