August 9, 2018 |
Christine Collier


We're excited to share that our 2016 Estate Pinot Noir is now Certified Vegan! According to
Vegan.org
, there are only seven other wineries in the country besides Willamette Valley Vineyards that have gone through the rigorous steps to carry Certified Vegan products.
"Staying true to the Oregon wine industry's leadership in truth-in-labeling practices, we want to be as transparent as possible with the production methods of our wines," explained Winery Director Christine Clair. "Oregon has enacted the strictest regulations of any state with regards to declaration of grape origin and varietal to ensure the integrity and quality of Oregon wine. It is in our winery's culture and values to extend this to our production methods," Clair continued. "Consumers are increasingly inquisitive about the source of their food and beverage, so we wanted to make it easy for them to make an informed decision that fits their dietary and lifestyle goals."
In addition to being Certified Vegan, the 2016 Estate Pinot Noir was made using sustainable practices. All of our Estate vineyards are L.I.V.E (Low Input Viticulture & Enology) and Salmon-Safe certified; our corks are Forest Stewardship Council® certified, and the Estate is 100% wind and solar powered.
The 2016 vintage has already won several accolades, including a rating of 90 points by Wine Enthusiast.
What does it mean to be "Vegan Certified?"
To be approved for Vegan Certification, a product must meet several standards. In summary, it cannot contain meat, fish, fowl, animal by-products, eggs, milk, honey, insects, products from insects or sugar filtered with bone char. It may not contain or be sourced from leather, fur, silk, feathers, down, bone, horn, shell, wool, cashmere, shearling, angora, animal skin, suede or mohair. There are also strict regulations for zero involvement in animal testing for any ingredient or processing step and GMO's are not allowed. Assurance that equipment coming into contact with animal products is thoroughly sanitized must also be approved. In terms of winemaking specifically, the product may not be filtered, defoamed or clarified with any animal products, such as egg whites, gelatin, fish or milk derived proteins. Finally, any fertilizers used during the grape growing process may not contain any animal products.
More about the 2016 Estate Pinot Noir
The 2016 Estate Pinot Noir expresses the terroir of our three vineyards — the original planting by Founder Jim Bernau in the Salem Hills, Tualatin Estate planted by Oregon wine pioneer Bill Fuller in the foothills of the Coastal Range and Elton planted by Dick and Betty O'Brien in the Eola-Amity Hills.
This wine exemplifies the "Oregon style" opening with aromas of raspberry, black currant, dried herbs and black pepper to create an elegant bouquet. On the palate, the wine is full-bodied with a silky mouthfeel and flavors of cherry, blackberry, bergamot, anise and earth. Exceptionally balanced with velvety tannins, lively acidity and a lingering finish.
Will you certify any other wines?
Yes! We are in the process of certifying additional wines, including our Estate Rosé, Whole Cluster Pinot Noir and Whole Cluster Rosé of Pinot Noir.
Cheers,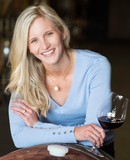 Christine Clair
Winery Director