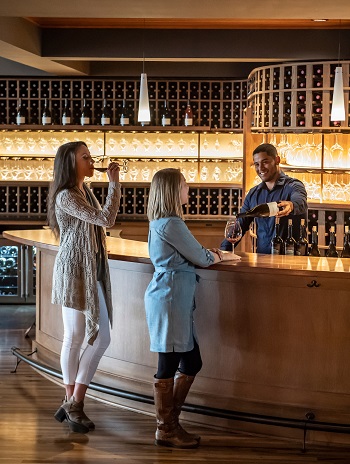 8800 Enchanted Way SE
Turner, OR 97392 [map it]
P | 503-588-9463
Toll Free | 1-800-344-9463
E | info@wvv.com
Hours:
11 am - 6 pm Daily


"Truly enchanting! I cannot rave enough about this place! The staff, the food, the wine, the accommodations were absolutely magical. My partner and I went here for one of our big anniversaries and it was truly unforgettable. If you need a quick, magical weekend getaway with a loved one, I would HIGHLY recommend. Looking forward to next time!"
— TripAdvisor Review
Estate Tasting Room
Enjoy our classic Oregon wines and breathtaking vineyard views at Willamette®
---
Learn the unique story of our winery as you take in the sweeping views of the vineyard and valley. Enjoy food and wine pairings in a relaxing setting with cozy fireplaces, an expansive patio, spacious courtyard and a 65-foot lookout tower. .

**In accordance with the declarations from our state officials and health organizations, our Estate Tasting Room is transitioning to curbside and pick-up wine and orders from 11 am - 6 pm daily. Please order wine online or call 503-588-9463 to place a wine/food order for pick-up. Thank you for your support and understanding!**

Open daily from 11 am - 6 pm.

We are closed on Thanksgiving, Christmas and New Year's Day.

Daily Food Pairings
Our Estate Tasting Room and Winery Kitchen are open daily 11 am - 6 pm for wine and food pick-up orders to go, including curbside assistance when requested. Please see our current food and wine pairings menu below.

Enjoy the Mid-Valley's favorite burger paired with our Whole Cluster Pinot Noir while supporting Wheels on Meals. We will donate $3 for every burger sold to assist with the well-being of seniors and disabled adults in Salem and Keizer during this challenging time.

Estate Wine Tasting Flights
**Tastings are not currently available**

Daily Flight - $10
Reserve Flight - $15
Flights waived with the purchase of two bottles. Wine Club Members and Owners receive a complimentary tasting.

Our Daily Flight showcases a mix of white and red wines and our Reserve Flight highlights small-lot bottlings, like our single vineyard designate Pinot Noirs and Griffin Creek wines.

Daily Tour
**Tours are not currently available**

Join us daily at 2 pm for a complimentary general tour of Willamette Valley Vineyards. Tours meet in our Estate Tasting Room near the front doors. Please plan for this experience to take approximately 30 minutes. Reservations are not necessary.
Elevated Experiences
**Elevated Experiences are not currently available**

Elevate your wine tasting experience and excite the senses by reserving one of our private experiences, from our Small Bite Pairings (offered Monday - Fridays with reservation) to our Private Tour and Tastings (offered daily with reservation).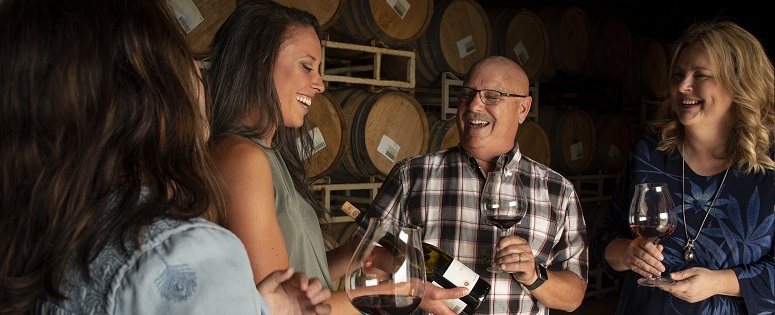 Club Room
Our Club Room is open to all Owners, Wine Club members and their guests to enjoy stunning vineyard views, a cozy fireplace and private patio access. Prior to the 2014 remodel, the Club Room served as the Estate Tasting Room until it was converted to the elegant space it is today. The Club Room has dedicated staffing on Fridays, Saturdays and Sundays.

Large Groups
Groups of 10 - 20 people are encouraged to contact the Hospitality Department for small party reservations to ensure a quality experience with one of our Tasting Room Associates/Ambassadors. Please call 1-800-344-9463 to make your arrangements. A credit card is required to hold your reservation. For groups larger than 20, please visit our Private Events page or contact our Hospitality Department to book your event.

Dogs at the Winery
We love dogs! Your pet is welcome to join us during your visit and are allowed on the Pinot Decks and adjacent lawns. We have bag stations and water dishes situated throughout the lawns for your convenience. Because we have a full kitchen, we do ask that you do not bring them into the Tasting Room, unless ADA registered as a service animal. During warmer months, please do not leave your dog in your car.