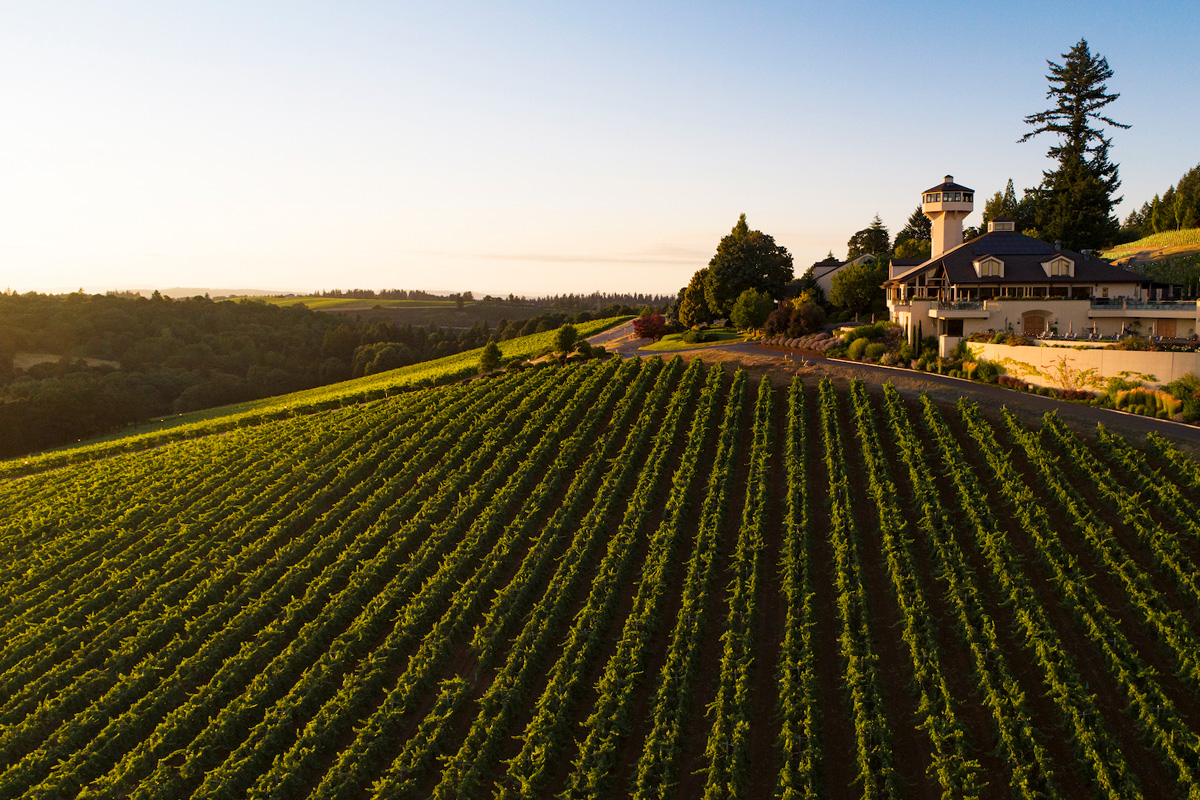 Willamette Valley Vineyards Estate Vineyard in the Salem Hills
Willamette Valley AVA
In 1983, with the encouragement from winemakers making their move from California, Jim cleared an old pioneer plum orchard in the Salem Hills, hidden underneath scotch broom and blackberry vines to plant Pinot Noir. Unable to afford drip irrigation, he watered the vines by hand using 17 lengths of 75' garden hose to get the grapelings through their first summer.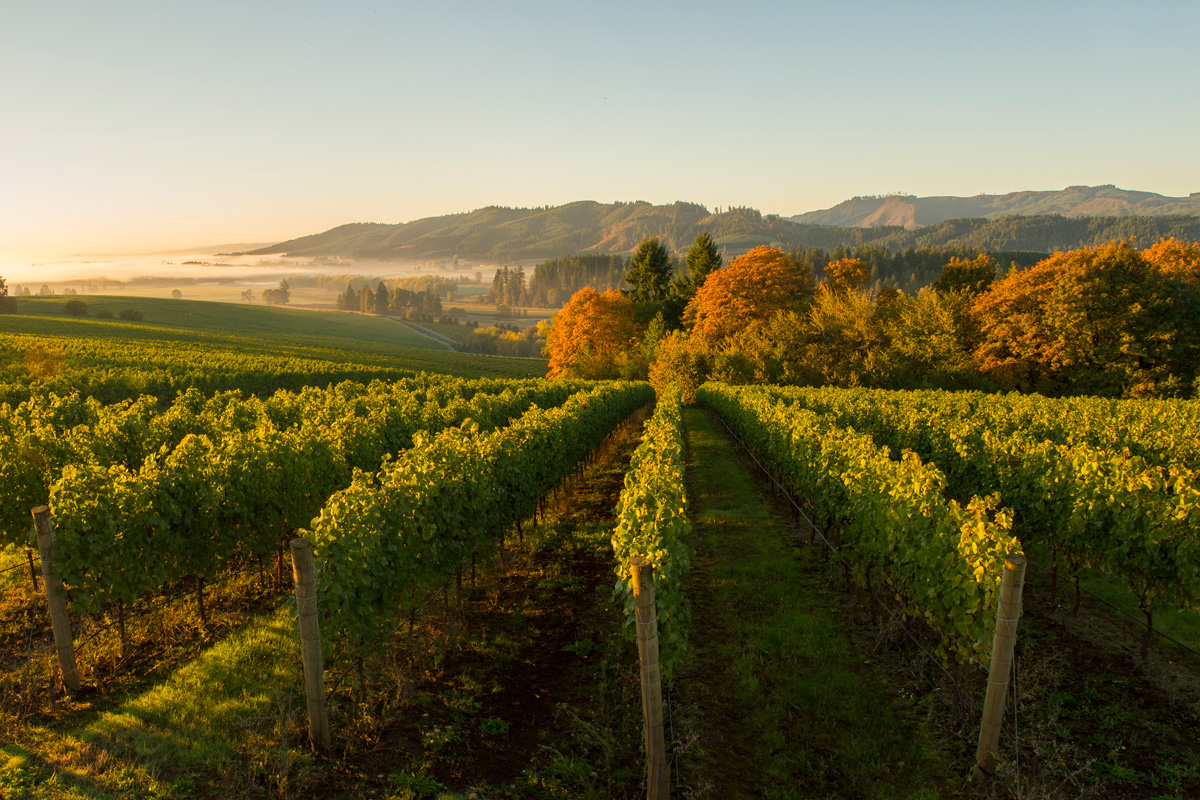 Tualatin Estate Vineyard
Tualatin Hills AVA
Tualatin Estate Vineyard, established in 1973 by Oregon wine pioneer Bill Fuller, is one of the oldest and most respected vineyard sites in Oregon. Covered in Laurelwood soil and Pisolites, the slope is south-facing with an elevation of 250-530 feet. Wine grapes from this 171-acre vineyard have produced world-renowned wines for more than 45 years. Tualatin is the only vineyard to have won the Best of Show for both the red and white categories at the London International Wine Competition in the same year. This is a feat unduplicated by any Oregon winery. Tualatin Estate Vineyard is proudly owned through a merger with Willamette Valley Vineyards accomplished in 1997.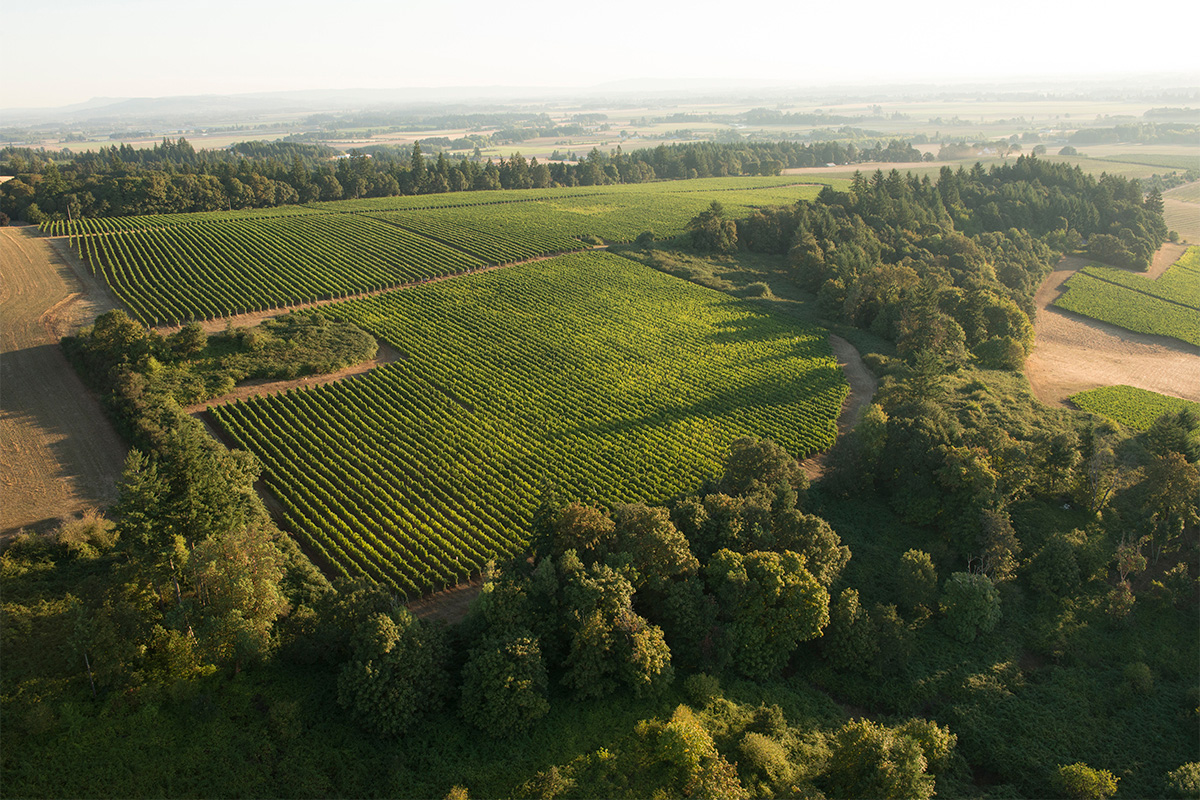 Elton Vineyard
Eola-Amity Hills AVA
Dick and Betty O'Brien married in 1967 and began building a life together on Betty's family's farm. Dick served as a middle school teacher and Betty became the Executive Director of the Santiam Girl Scouts. After a trip to Germany in 1980 where they stayed with a family that grew wine grapes, they returned to Oregon inspired and eager to plant a vineyard of their own. Betty's parents, Elton and Peggy Ingram, turned over five acres of the farm for them to plant grapevines. They planted Pinot Noir and Chardonnay in 1983, the same year that Jim Bernau, Betty's friend and college classmate, planted our Estate Vineyard in the Salem Hills. Their vineyard grew over the years from five acres to more than 60 acres in the east-southeast slopes of the Eola Hills and was named one of Oregon's top ten vineyards by Wine Press Northwest. The elevation rises from 250-500 feet, and the vineyard soil is primarily Jory and Nekia. Upon the O'Briens' retirement in 2007, the vineyard was contracted under a long-term lease to Willamette Valley Vineyards. Retirement allowed Dick and Betty O'Brien to complete a beautiful 1.5-acre garden on the property.