August 30, 2019 | Willamette Valley Vineyards
Wine Pioneer Bill Fuller Makes Vintage 44 Wines at the Age 82
A passion for wine led Bill Fuller, Founder of Tualatin Estate Vineyard, to achieve a successful career in winemaking and by doing so, carved a path in the Oregon wine industry for other aspiring vintners. Continuing to inspire us, Bill is still making wine at age 82.
Bill's Story
In 1971, Bill Fuller began exploring sites in the Willamette Valley and eventually moved from California to Oregon with his family to pursue his dreams of starting his own vineyard and producing cool-climate Pinot Noir from the Willamette Valley. As one of Oregon's original winemakers, Bill planted the Tualatin Estate Vineyard in 1973 in Forest Grove, Oregon. The name "Tualatin" originates from the local indigenous people and means "gentle and easy flowing" referring to the Tualatin River that flows near Forest Grove.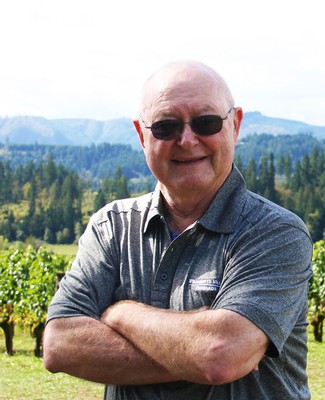 Many Firsts in the Industry
Bill Fuller's Chardonnay and Pinot Noir both took home the "Best of Show" for the "Red" and "White" categories in the same year at the London International Wine Fair, a first-ever occurrence in the wine fair. His 1989 Chardonnay was the first Oregon wine to be named on the Wine Spectator Top 100 list.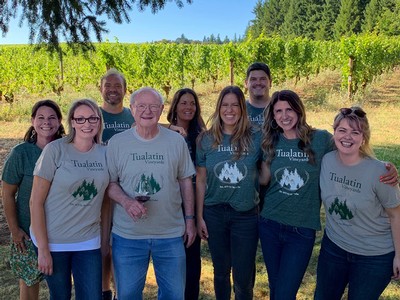 Creating our Vintage 44 Wines
Bill Fuller retired in 1997 after merging Tualatin Estate Vineyard with Willamette Valley Vineyards. Sixteen years later, Winery Director Christine Clair asked if Bill would come out of retirement as a Consulting Winemaker to assist in the making of wines produced from Tualatin Estate fruit. Bill agreed and rejoined the winemaking team to create the Vintage Pinot Noir and Chardonnay that expresses the classic techniques of his winemaking.
This August, we released the Vintage 44 Pinot Noir and Chardonnay made by Bill Fuller with a sold-out celebration at Tualatin Estate Vineyard. Bill shared some of his many winemaking stories and signed bottles for guests.
2017 Vintage 44 Pinot Noir
Ruby in color, the wine opens with aromas of ripe red cherries, raspberries, cedar and violets. Medium-bodied, silky textured with bright acidity that carries fresh red fruits, florals, earth and wood spice notes into the palate. The finish is long-lived with integrated tannins.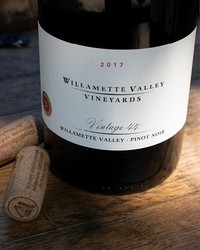 2017 Vintage 44 Chardonnay
Light gold in color, the wine opens with aromas of lemon, toasted pineapple, pine and spice. Rich and supple in texture, flavors of golden apple, vanilla, brown sugar and brioche lift from the palate and flow into a lingering, round finish.