March 28, 2016 | Willamette Valley Vineyards
Sunset Travel Awards Finalist!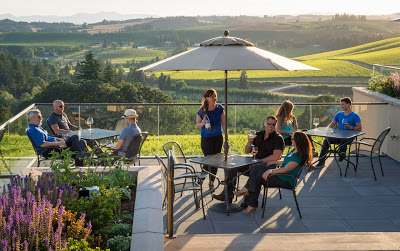 Patio at the Estate Tasting Room
We are honored to be a finalist for the 2016 Sunset Travel Awards recognizing a tasting room or vineyard tour that illuminates viticulture and enology, has fun doing so, and offers guests a chance to sample excellent wines. Thank you Sunset Magazine!

courtesy of Sunset Magazine
Visit our Estate Tasting Room to learn about the incredible story of our winery and the Oregon wine industry as you take in the sweeping vineyard views. The setting is warm and relaxing with cozy fireplaces and seating areas, reclaimed wood floors made from pallets from the Port of Portland, and an expansive patio and courtyard. We offer Daily and Reserve Tasting Flights, a Food Pairings Menu to enjoy with your favorite wines, and a complimentary Daily Tour or Private Tour and Tasting experience. Open Daily 11 am - 6 pm. For more information visit our website.
Commenting has been turned off.