September 30, 2019 | Willamette Valley Vineyards
Our Duck made an honorary Beaver!
This will come as a surprise to you having seen our Founder in yellow and green all these years ... Jim Bernau (former UO Student Body President and avid Duck) received the Joan Austin Honorary Alumni Award from Oregon State University this past Thursday evening!

Jim's support of OSU started back in the mid-1990s when he made a personal gift to the university to establish the first professorship for fermentation science in the nation. His groundbreaking work on behalf of the Oregon wine industry and ongoing leadership was also cited in the granting of this recognition.

Jim says there is only one day a year he isn't championing OSU research and academic programs — the Civil War.

As many of us at the winery are OSU grads, we are delighted to finally see our Founder in black and orange!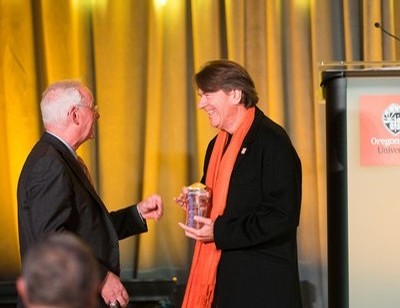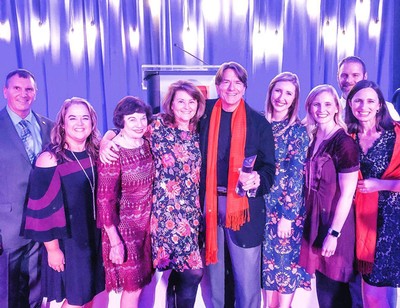 Pictured above: OSU President Ed Ray presenting Founder Jim Bernau with the Joan Austin Honorary Alumni Award (left). Founder Jim Bernau surrounded by our OSU Alumni Staff and friends Nicole Markel, Betty O'Brien, Jan Green Bernau, Caitlin Craig, Christine Clair, Chris Day and Cara Pepper Day (right). Photos by Hannah O'Leary.
Commenting has been turned off.