Oregon Solidarity
Rogue Valley winegrowers faced an unprecedented crisis when the California producer of Elouan abruptly canceled their grape contracts just days before harvest, citing smoke from the season's wildfires. Oregon winemakers, finding the grapes to be of high quality, banded together to save as much of the crop they could, making a Solidarity vintage.
We teamed up with King Estate Winery, Silvan Ridge Winery and The Eyrie Vineyards to produce three Oregon Solidarity wines. The net sale proceeds from the wines will be donated to the Rogue Valley Vintners to help the uninsured growers in the region.
We purchased as much stranded wine grapes as possible, paying the full contracted rates to help the growers. Independent third-party analysis showed the grapes were well below the threshold for smoke impact. In total, the coalition was able to purchase more than 140 tons of grapes at a cost of $323,750 from six growers, coordinating harvest and delivery to the four participating wineries. This unprecedented effort translates to nearly 7,500 cases of wine.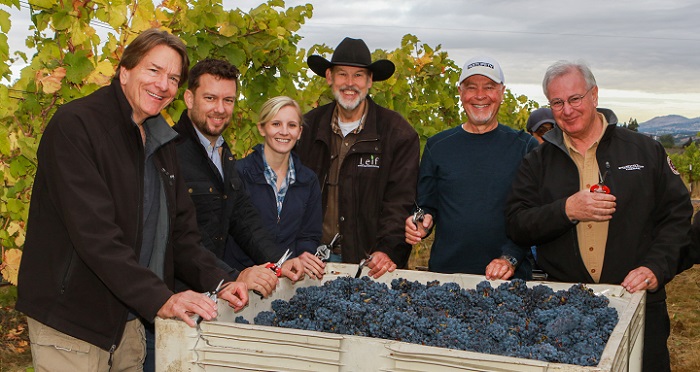 Jim Bernau (Founder), Justin King (Co-Owner, King Estate), Christine Clair (Winery Director), Rep. Gary Leif, Senator Alan DeBoer, Rep. David Gomberg.
Release Dates
Oregon Solidarity Rosé of Pinot Noir: March 1, 2019
Oregon Solidarity Chardonnay: May 1, 2019
Oregon Solidarity Pinot Noir: August 1, 2019
We are proud to be part of this first-of-its-kind solidarity effort, working with our colleagues to save what grapes we could from this high-quality vintage. Thank you for your support of Oregon winegrowers!

Recent Press
"Oregon Solidarity wins Wine Star Award for Innovator of the Year" - Wine Enthusiast
"Oregon Wineries Come Together to Save Grapes Rejected for Smoke Taint" - NPR
Defines Oregon's Wine Community" - Forbes
"We'll Drink to This Wine" - The Register-Guard
"First 'Oregon Solidarity' Wines Hit the Marketplace to Benefit Rogue Valley Grape Growers" - The Oregonian
"Oregon Winemakers Turn Wildfire Losses Into Collectible Bottles" - Bloomberg
"Oregon Solidarity Wines, Benefiting Rogue Valley Winegrowers, Make Their Debut" - Statesman Journal