Free Writing Prospectus (to Prospectus dated January 24, 2020, as Supplemented by the Prospectus Supplement dated June 11, 2021)
Filed Pursuant to Rule 424(b)(2) Registration Statement No. 333-236080
---
Ownership Invitation
Become a Winery Owner in one of Oregon's leading wineries and take part in the fastest growing wine region in America! Please join us in our Preferred Stock Offering (NASDAQ: WVVIP). As an Owner, you will enjoy a 25% discount on wine purchases, monthly complimentary wine tastings, invitations to Owners-only experiences and other great benefits (highlighted below).
You may purchase shares at $5.05 per share, offering an annual 4.36% dividend or wine credit with 15% more value, if your application and subscription agreement is received or postmarked by September 30, 2021, and accepted.
The minimum purchase is 300 shares ($1,515) and the maximum purchase is 2,300 shares ($11,615.00). Share price will increase to $5.15 after September 30, 2021. Priority to become an Owner is given to wine enthusiasts who will support their investment as a Wine Club Member or use their dividend as a wine credit.


To make an investment, please review the prospectus then
submit the application and subscription agreement.


You may submit the application and subscription agreement in one of three ways:
1. Complete the electronic DocuSign agreement by clicking on the "Purchase Stock Online" button above.
2. Print the PDF application, fill it out and email the completed paperwork to stock.offering@wvv.com.
3. Or, mail it to 8800 Enchanted Way SE, Turner, OR 97392.

If you have any questions, please call the winery at (503) 588-9463 or email stock.offering@wvv.com.

Benefits of Preferred Stock Ownership
Option to take your dividend as a Wine Credit with 15% more value.
Discount of 25% off wine bottle purchases.
Complimentary wine tasting at any of our locations, including Maison Bleue & Pambrun in Walla Walla, and at future locations (once per month, by appointment).
Priority patio reservations at the Estate Tasting Room in the Salem Hills.
Discounted or complimentary admission to special events and experiences like VIP winery tours and blending experiences.
Priority to purchase limited-production wines and new releases.
Personalized winery business cards upon request; the initial set is complimentary.
Invitations to Owner-exclusive events, including our Annual Owners' Weekend.
Regular email updates on winery developments.
Opportunities to volunteer and increase your wine knowledge through the non-profit Oregon Wine Enthusiasts or support storytelling efforts as a Brand Ambassador.
To claim Ownership status at Willamette Valley Vineyards, you must be the current shareholder of at least 100 shares of Preferred (WVVIP) or Common Stock (WVVI). To ensure that you are marked as an Owner in our system, in order to claim your Owner discount and other benefits, please call, email or visit the winery to verify your status as an Owner. We reserve the right to verify Owner status at any point in time for the continuation of Owner benefits.


---
Winery Highlights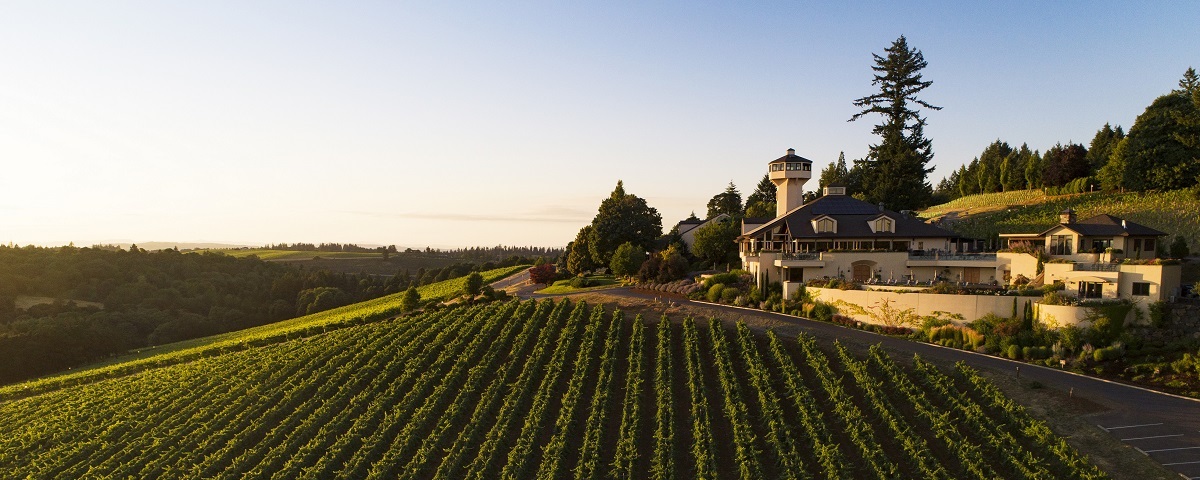 America's Community-Funded Winery
Willamette Valley Vineyards became the first SEC authorized community-funded business in the U.S. through the first successful Regulation A self-underwritten public offering in 1989. The winery has grown with the support of wine enthusiasts through Preferred Stock Ownership (NASDAQ: WVVIP) funding new vineyards, wineries and experiences.

World-class Wines Through Shared Ownership
Founder Jim Bernau believes among the healthiest forms of business are those owned by the community. Jim's vision of organizing the support of wine enthusiasts to make world-class wines through shared ownership has resulted in more than 20,000 owners.

Oregon's Leading Producer of Willamette Valley Appellated Pinot Noir
The winery sources all of its barrel-aged Pinot Noir from its estate-grown vineyards and meticulously farms, by hand, nearly 500 acres in the hills of the valley.

Stewardship of the Land
Since the winery's founding in 1983, stewardship of the land has been a key principle in our winemaking and farming practices. The estate vineyards are certified sustainable through LIVE (Low Input Viticulture and Enology) and Salmon-Safe. In addition, Willamette Valley Vineyards was the first winery in the world to use cork certified through Rainforest Alliance to Forest Stewardship Council standards and use an autonomous UV-C Light Robot to sustainably prevent powdery mildew in the vineyards. Learn More.
---
Tasting Room & Restaurants

After successfully launching our first prototype in Folsom, California last year, we're expanding into some of Oregon and Southwest Washington's most exciting areas. Our new Tasting Room & Restaurants will bring the winery experience to our guests and offer Pacific Northwest-inspired dishes to pair with our classic Oregon wines. We'll also debut a new Membership option for guests and Owners to enjoy at these locations.

Lake Oswego (first image above)
Located off Highway 43 in downtown Lake Oswego, this Winery Restaurant will feature food and wine pairings, wine lockers, a beautiful trellis patio with an outdoor fire pit, a private wine cellar dining room and ample parking.
Anticipated opening: Early 2022

Vancouver Waterfront (second image above)
Featuring incredible views of the Columbia River, this new wine tasting destination features 7 Washington wineries and we are excited to be the first from Oregon. Our Tasting Room & Restaurant will include barrel booth seating, gathering space on our Mezzanine and spacious patio seating overlooking the river.
Anticipated opening: Summer 2022

Happy Valley
As we join the flourishing town of Happy Valley just outside of Portland, our Tasting Room & Restaurant will feature a large outdoor patio and water feature.
Anticipated opening: Late 2022

Bend
Located in historic downtown Bend, our Tasting Room & Restaurant will bring wine country to this destination community that loves all things craft.
Anticipated opening: 2023
---
Domaine Willamette


at Bernau Estate Vineyard in the Dundee Hills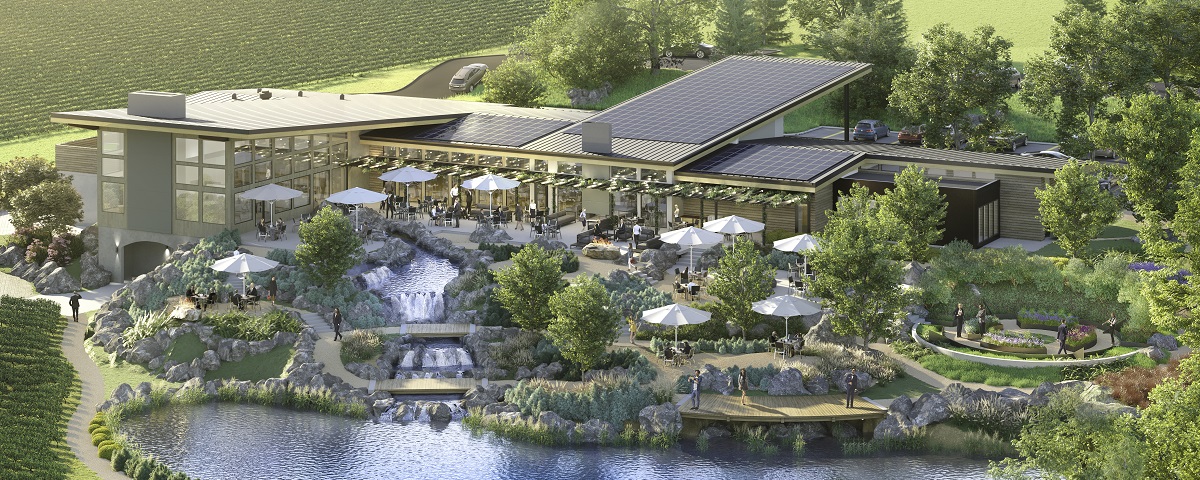 Domaine Willamette will produce world-class méthode champenoise sparkling wines with an underground aging cellar at the biodynamically-farmed Bernau Estate Vineyard. The winery will offer Oregon-inspired hospitality with wine and food pairings, stunning views, educational tours and beautiful gardens for you to explore.

Our signature Domaine Willamette wine will be distributed to wine shops and restaurants to showcase the Willamette Valley's capability in growing and producing sustainably-grown méthode champenoise sparkling wines equal to the great Champagnes.
Anticipated opening: 2022

---
Willamette Wineworks



Willamette Wineworks®, a microwinery located in the Roundhouse building in revitalized Historic Folsom, California features food and wine pairings and a unique Barrel Blending System allowing you to create your own wine blends. Founder Jim Bernau's family in Folsom has brought this idea to life and enabled us to take the Oregon wine story on the road.

Folsom's winemaking history dates back to the mid-1800s with the planting of Natoma Vineyard. In the early 1900s, this vineyard boasted 2,000 acres as one of the largest vineyards in the nation, but when gold was discovered on the property, the vines were replaced with dredgers. Join our dream to reestablish Natoma as a celebrated wine brand in California.
---
Maison Bleue in Walla Walla



We purchased 36 acres in the Rocks District of Milton-Freewater AVA and have planted 15 acres of Syrah, Grenache and Viognier to produce our Maison Bleue wines. Maison Bleue is dedicated to the production of terroir-driven wines from The Rocks District of Milton-Freewater with a focus on Rhône varietals. The vineyard sits along Highway 11 and Sunnyside Road, the entrance to the appellation. It is also on the direct path to Pambrun Vineyard, which sits in the SeVein on the north slope high above The Rocks District.

Wines may be purchased online or in the Walla Walla Tasting Room located at 20 N. 2nd Avenue, Walla Walla, WA 99362.

---
Pambrun in Walla Walla



We have planted our vineyard of 19 acres alongside those Cabernet Sauvignon visionaries at SeVein. Located on the Oregon side of the Walla Walla Valley, SeVein is a collection of some of the highest quality vineyard land in the world anchored by the renowned Seven Hills Vineyard. Named in honor of Pierre Pambrun, Walla Walla's first citizen who led the Hudson's Bay trading post and was Founder Jim Bernau's fourth great-grandfather. In April 2018, we released the inaugural 2015 vintages of Pambrun Merlot, Cabernet Sauvignon and Chrysologue (a red blend).

Wines may be purchased online or in the Walla Walla Tasting Room located at 20 N. 2nd Avenue, Walla Walla, WA 99362.
---
Elton in the Eola-Amity Hills



Dick and Betty O'Brien planted Elton Vineyard in 1983 and spent their lives growing Pinot Noir and Chardonnay in the Eola Hills south of Dundee. It was named one of Oregon's top ten vineyards by Wine Press Northwest and in Wine & Spirits as one of the five key vineyards in the Eola-Amity Hills AVA. They have enjoyed providing their winegrapes to some of Oregon's most talented winemakers over the years, including Isabelle Meunier. Between Isabelle's first Oregon vintage in 2007 through the 2015 vintage, only 22 Oregon wines were awarded a score of 95 points or more by Wine Spectator. Isabelle produced 11 of those wines. Associate Winemaker Gabi Prefontaine has worked alongside Isabelle to now lead the Elton wines.
Elton focuses on small lots of premium Pinot Noir and Chardonnay starting with the 2015 vintage. Wines may be purchased online or by attending a signature event, like the annual Garden Party held in the O'Brien Garden.