Willamette Valley Vineyards partnered with the Oregon Cheese Guild to produce a limited four-bottle collection designed to pair with premium Northwest cheese and artisan food products. We invite you to purchase this collection as well as the Oregon Cheese Guild's Cheese Kit as you host friends and family this Holiday Season.

To Purchase the Oregon Cheese Guild's Pairing Collection please click the link below:



Please Note: While wine will be sent directly to you the Oregon Cheese Guild's collection must be picked up at one of their designated pickup locations on December 20th or December 21st. More information can be found on their website. Cheese packs are available while supplies last.


Pickup Locations
Domaine Willamette, 19255 N HWY 99W Dayton, OR 97114.
B-Line Warehouse's East Door, 1198 SE 8th Ave. Portland, OR 97214.
Don Froylan Cheese Factory, 3310 Portland Rd NE, Salem, OR 97301.
Anchor Valley Wine, 150 S Oregon St Suite A, Jacksonville, OR 97530.
Walla Walla Cheese Co.: 606 N Main St, Milton-Freewater, OR 97862.

Wine and Cheese Holiday Pairing Collection:

2019 Elton Pinot Noir
Deep ruby red color with aromatics of blue and red fruits such as strawberries, blueberries and Santa Rosa plums. Red earth and clay minerality give the wine a tremendous spice and focus. The warmth provided in each sip is reminiscent of the first fall days of the year.

2021 Estate Rosé of Pinot Noir
Vibrant pink color radiates from the glass with aromas of freshly picked strawberries and raspberries. Flavors of plums and strawberries provide a juicy palate accented with Meyer lemon zest and garden herbs with ample freshness and a long revealing finish.

2020 Bernau Block Chardonnay
Pearlescent color with a chlorophyllic hue. Apple, pear and citrus are fused with ginger and allspice that give the wine a nice warm entry on the palate. A touch of brioche midpalate gives the wine a nice viscosity that then cools with flavors of green apple, lemon zest and kumquat, allowing the wine to have layers of complexity.

2018 Griffin Creek Grenache
The perfect wine to enjoy in the winter with fruits of dark cherries, blueberries jam with notes of black tea, cocoa nibs, and baking spices that warm you up instantly. Brightness from the acid gives the wine plenty of life while the tannins provide a velvety richness that lasts from start to finish. Undertones of raspberry, English breakfast tea and nutmeg give additional dimensions to this wine.

Owners and Wine Club Members, please log into your account to receive your 25% and 20% discount.
Questions? Our experienced winery Ambassadors are here to assist you! Call the winery at (503) 588-9463 and ask to speak with an Ambassador.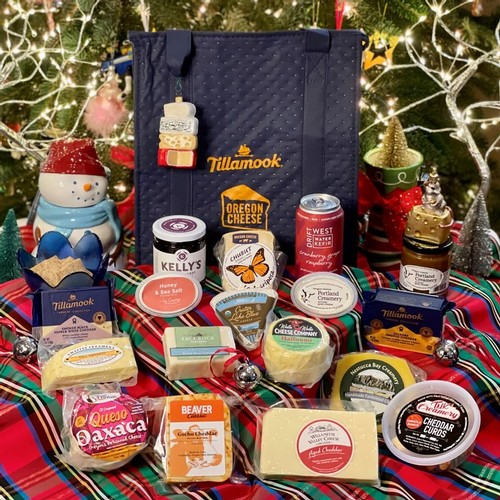 2021 Cheese Kit