Stewardship of the Land

Willamette Valley Vineyards is dedicated to producing the finest Pinot Noir from grapes grown in the Willamette Valley Appellation. Since the winery founding in 1983, stewardship of the land has been a key principle in our winemaking. Please consider taking a few moments to read about the ways we are addressing climate change and protecting our environment.

---
LIVE (Low Input Viticulture & Enology) & Salmon-Safe
Environmental Certifications
Our vineyards have been certified sustainable through LIVE (Low Input Viticulture and Enology) and Salmon-Safe since 1997. This includes fifty acres of vinifera at our Estate Vineyard, more than 200 acres at Tualatin Estate Vineyard, and sixty acres at Elton Vineyard. LIVE is certified through the International Organization for Biological Control, the international standard for sustainable agriculture. The whole farm system certification includes preventative measures for water run off into salmon streams, natural pesticide management, riparian areas and reduced sprays.
In 2011, Founder Jim Bernau was recognized by Salmon-Safe with the very first "Hero of Salmon" award for the implementation of his high impact Salmon-Safe "SIP-SAVE" campaign in print, retail, web and vehicle wraps.
---

BioDiesel
The Willamette Way
We love our biodiesel! In 2005, Founder Jim Bernau launched the employee biodiesel program; offering fifty gallons of biodiesel a month to each employee, at no cost. Employees, delivery vehicles and tractors fill up onsite at our Estate or at card-lock stations. To learn more about biodiesel, and our provider, please visit SeQuential.
---

FSC® Certified Cork
Certified through the Rainforest Alliance to FSC standards
Willamette Valley Vineyards is the first winery in the world to use cork certified through the Rainforest Alliance to Forest Stewardship Council® (FSC®) standards. Cork is a natural, sustainable product where the cork tree is never cut down but continues to sequester carbon throughout its long life. Learn more by visiting the Rainforest Alliance.
In 2010, Willamette Valley Vineyards was honored with the Rainforest Alliance's prestigious Sustainable Standard-Setter award. Tensie Whelan, President of the Rainforest Alliance, commended the winery for its long-time leadership in agriculture and forestry.
"Willamette Valley Vineyards' efforts to provide sustainable livelihoods, conserve biodiversity and minimize environmental impacts have solidified Willamette Valley Vineyards as a leader of sustainable agriculture and forestry," Whelan said. "Willamette Valley Vineyards has long been at the forefront of environmental conservation through the pursuit of FSC-certified cork, waste management near riparian zones, and investment in alternative fuels." Learn more about FSC®.
Additionally, all of our bottle packaging materials are certified to be BPA free.
---

Bottle & Cork Recycling
We offer a 10 cent refund on all wine bottles returned to our tasting room!
In 2005, Founder Jim Bernau won permission from the OLCC to include a ten cent recycling refund statement on our wine labels. We offer ten cents for each bottle returned to our tasting room and one dollar for returned shippers. Also, because cork is one of the world's most sustainable agricultural products, we've partnered with CorkReharvest.org to begin a nationwide recycling campaign. We recycle the corks into high value products, so consider recycling yours. Drop the corks off in our tasting room or, to find other recycling locations, visit CorkReHarvest.org.
As well as recycling natural corks, the company also uses recycled paper throughout the facility, recycled cardboard shippers, and recycles all plastic, aluminum, paper and cardboard products.
---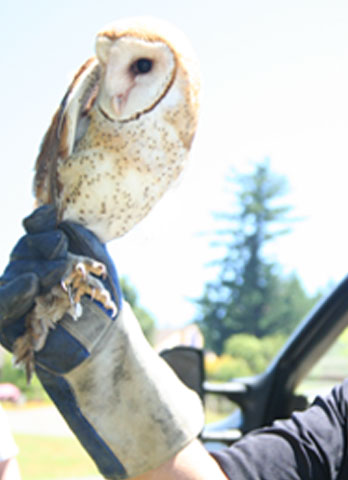 Raptors in the Vineyard
Barn owls and kestrels help protect our vineyards
In 2011, we partnered with the Cascades Raptor Center in Eugene, Oregon to place rehabilitated barn owls and kestrels into our vineyard for natural protection. We hung the first of six barn owl and kestrel nesting boxes around the vineyard. These birds help create a balanced eco-system by controlling pest populations. We continue to introduce birds each year.
Joe Perez, one of our long-standing AWS/OWE members, built the "bird condos" and placed them in three of our estate vineyards.
We'd like to thank Louise Shimmel, Executive Director of the non-profit Cascades Raptor Center, for all of her work to make this possible.
Learn more about Cascades Raptor Center.
Read more about what makes our winery an ideal habitat for raptors.
---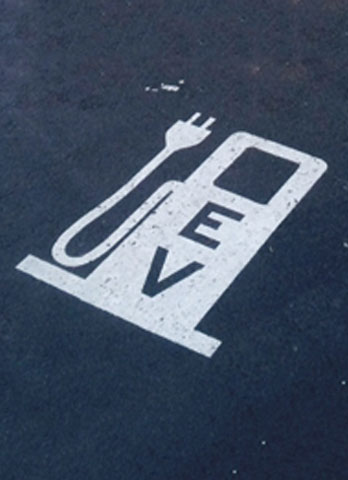 Energy Efficiency
Electric Vehicle Charging
Guests of the winery are welcome to use either of the dual-head electric car charging stations located in the hospitality parking lot. Look for the "EV" logo painted on the designated parking spaces to use this free service.
---
Willamette Valley Oak Accord
Willamette Valley Vineyards is one of the founding signatories of Willamette Valley Oak Accord, a grassroots effort to protect and restore remaining oak habitat in the Willamette Valley. This is an important conservation effort that will preserve natural resources within our region.
---

Wind & Solar Power
Powered by Wind
By partnering with PGE to provide wind-powered electricity, we have the same environmental impact as not driving 739,488 miles each year. Clean Wind is plentiful, renewable, widely distributed, produces no greenhouse gas emissions during operation, doesn't consume water and uses little land.
Solar Energy
The Estate has twelve solar water heating collectors and 116 kilowatts of photovoltaic generation capacity that will reduce emissions from utility-supplied energy to prevent 1,780 tons of CO2 from entering the atmosphere. Additionally, Willamette Valley Vineyards has invested in four solar energy projects with Advanced Energy Systems. These include two solar electric installations (458 panels in total) providing 139,000 kilowatt hours of electricity annually. On an equivalent basis, these solar power facilities offset the emissions from the consumption of 11,917 gallons of gasoline, amounting to a reduction of 117 tons of CO2 emissions each year.